Contact Directly
T'SOU-KE FIRST NATION
BOX 307 2154 LAZZAR RD SOOKE BC V0S1N0
(250) 642-3957 Fax:(250) 642-7808
- - - - - - -


'Grandma Sue' was beloved by all who met her

More T'Sou-ke Nation - Stories
In the Sooke News Mirror


Click Here for a Birds-Eye View

On September 5, 2013, the Canadian Solar Cities Project (CSCP)
named the T'Sou-ke Nation in BC a Canadian Solar City
the first Aboriginal community in Canada to receive this title.
The T'Sou-ke Nation is being recognized for its leadership practices involving solar energy.

Water Blessing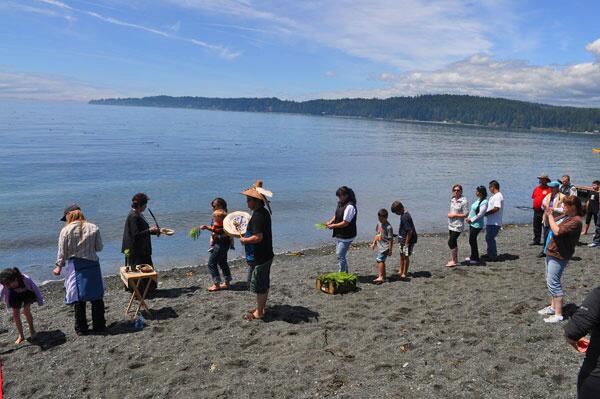 "Bunny" Planes laid to rest next to her husband
(Sooke News Mirror)
The legendary Frank Planes, 1923-2011

T'Sou-ke Nation - A Community's Hopes for Self-Sufficiency

T'Sou-ke Nation Youth Seafood Harvesting

T'Sou-ke Nation
A Leader In The Use of Solar Power


Click on the photo to read the story
- - -
2011 Tribute
Frank Planes
- - -
2008 Tribute
Anastasia "Day" George
- - -
2008 Tribute
Sandra Cooper-Brown
- - -
2007 Tribute
Jim Cooper
- - -
February 19, 2008
There's a new Chief of the T'Sou-ke First Nation.
Gord Planes is the new head of the elected council, taking over from Rose Dumont.
The Chief and Council for the T'Sou-ke Nation are:
Chief Gordon Planes / Councillors: Jacques Planes and Colleen George.
- - - - - - -



What Does a Healthy First Nations Community Look Like?
T'Sou-ke Nation Health Plan
November 2007
- - -
T'Sou-ke Nation takes DFO to court over treaty and fishing rights
June 28, 2007
- - - - - - -
May 30, 2007
T'Sou-ke Nation Joins the Inter Tribal Health Authority


Pictured from left to right - T'Sou-ke Elder and Veteran Frank Planes,
ITHA Board members Sally Williams, Josh Duncan, David Bob, Chief Cyril Livingstone,
T'Sou-ke Councilors Colleen George and Rodney George, T'Sou-ke Chief Rose Dumont,
ITHA Executive Director Terry Fox, ITHA Board member Terry Sampson

Board Co-Chair David Bob


Welcomes Chief Rose Dumont
into the ITHA family


With a Membership Now
of 29 First Nations



Tzinqua Dancers of Cowichan Tribes

|
|

provided a culturally-inspiring performance in the T'Sou-ke Nation Community Hall


- - - - - - -
( Chief Rose Dumont )
May 10, 2007 community gathering


Bringing Back Traditional Food Practices - Healthy People, Strong Culture
( Crab, shrimp, halibut, local greens . . . )
Food Sovereignty: "The State of Being in which all community residents
obtain a safe, culturally acceptable, nutritionally adequate diet
through a sustainable food system . . ."
- - - - - - -

July 26, 2004
below is the afternoon arrival at T'sou-ke Nation

|

Just like their relations before them, T'Sou-ke Nation paddlers escort Ditidaht paddlers into the harbour.
Tired and hungry after an 11 hour journey

|
|

The traditional respectful request to come ashore
T'sou-ke Nation Chief David Planes, community members and friends greet the paddlers
with warm and welcoming words, invite them to come ashore, to eat and to rest.

|

The Tsopo-Kapuu canoe of the Quinalt Tribe, on loan to Ditidaht paddlers is escorted to the dock,
toward a feast (singing and drumming for their supper) and an overnight campout on shore.



- - - - - - -
National Aboriginal Day
2003 at T'Sou-ke Nation


(2003 T'sou-ke Photos Courtesy of the Kendalls, John and Simone)
Click on Numbers to View Larger Images
1 | 2 | 3 | 4 | 5 | 6
- - - - - - -
Remembering and Honouring


Former Chief David Planes
- - - - - - -

Former Chief Linda Bristol


April 2001
T'sou-ke Nation holds groundbreaking for Sum-sha-thet Lellium
Sunshine House children's centre.
CLICK TO SEE MORE
- - - - - - -
T'sou-ke Nation
1999
Previous Reports
- - - - - - -

Turtle Island Native Network is Powered by
Objectified Software

Front Page | Discussion | Education | News | Healing and Wellness
Contact | Resources | Communities | Business | Culture






Legal Notice


© All contents are copyright 1998 - 2016
No material from this site may be reproduced, modified, republished,
transmitted or distributed in any way without the owner's prior approval.
All Rights Reserved by Tehaliwaskenhas Bob Kennedy
This is a Native Owned and Operated Web Site